Reading Time:
5
minutes
I'm not talking about anthropology or a hippy commune but defining who you work for and what role you fulfil in a team. In other words, which tribe did you choose, did they choose you in return and which role do you play in that society? Or perhaps you are the tribe chief or elder – what does your tribe stand for, where are you going and who do you need in the tribe to get you there? These questions are vital parts of requirement matching in job seeking and recruitment.
This analogy is not as strange as it may first appear. The human species is meant to be in social groups of 20-150 strong with shared cultural values with common interests or pursuits i.e. a tribe. In these modern times we spend more time with our work teams than we do with our families, or certainly our extended families, so work has become the modern tribe. We are hard-wired to belong. When you think about it, the defining features of a tribe are there in the companies we work in; shared identity in the form of a uniform, shared language that lets the tribe know you're one of them (who has lingo or terms of endearment specific to their team), shared rituals (never saying it is 'quiet'), and shared experiences (team events).
One of the most surprising aspects of reverse recruitment for me was the number of practices that couldn't describe their tribe ('we fix animals'), what the values and vision were ('we are extending upstairs so we can have more office space') or what even role was vacant and what skills did they need to fill that role ('MRCVS, you're just what we need'). How could I know if this was the right tribe for me or the right role in the right tribe? Until recently years I was also complacent, I thought all veterinary tribes were roughly the same and most vet roles were for any vet or could be adjusted to fit. But it has been widely shown that companies where their team share values and are in turn valued, succeed long term and I was looking for a long-term job prospect. Work is the modern tribe and I wanted to find my tribe where I could grow and help them grow.
Requirement matching is a two-way process; the potential employer needs the right new member of staff and the job seeker needs to find the optimal role and the right employer. Best fit leads to optimal matching which leads to long-term success for both sides. It makes perfect sense, yet it still seems so rare. In the current frantic recruitment process in the recruitment crisis, too many are happy with just any extra member rather than ensuring that this member is right for the tribe and are happy to tell the job seeker anything to get them to get into the tribe.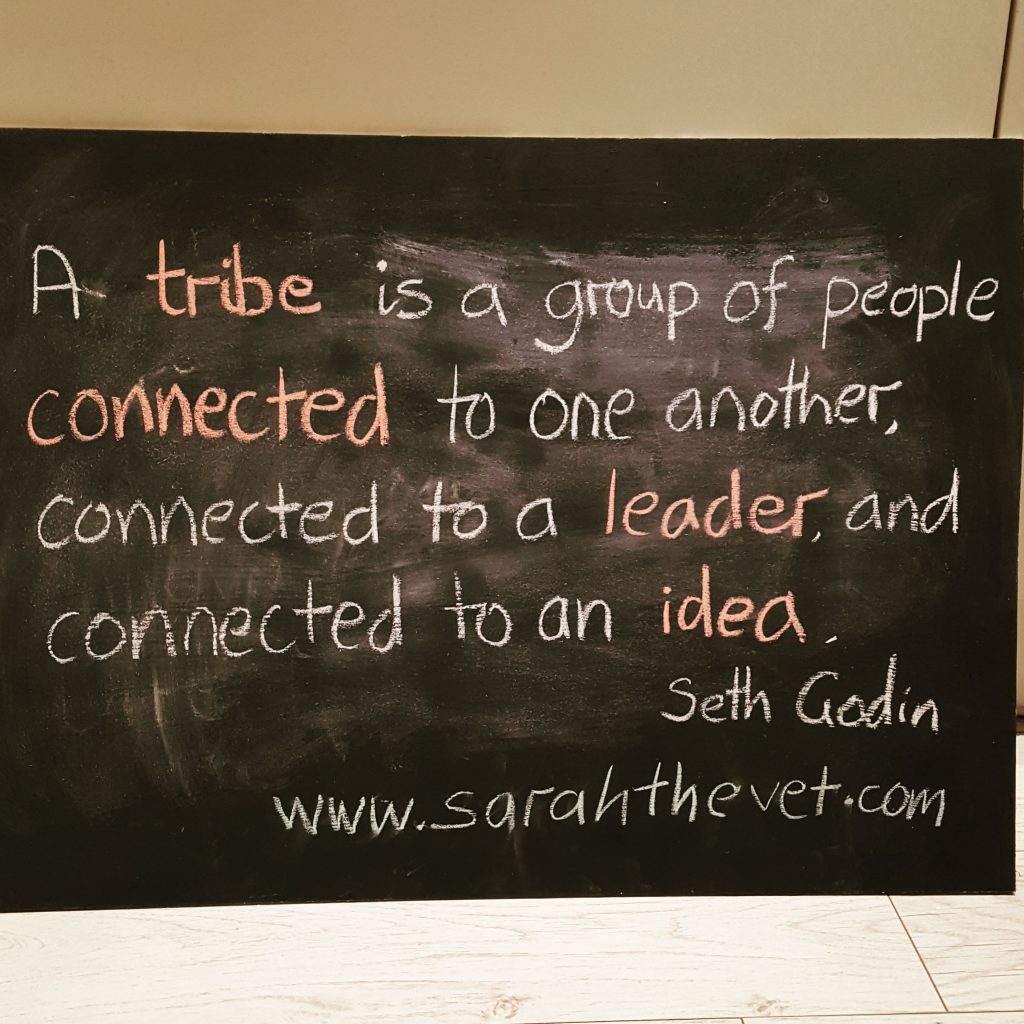 Job Seeker – the tribe member
Know yourself and what you want from your tribe. It is about knowing your beliefs, values and purpose, your strengths and weaknesses, and finding a team that aligns with and complements you.
Write a CV and LinkedIn profile that reflects your values and purpose, then people will be able tell what tribe you are looking for.
What is your career plan and what tribe do you need to join to journey there?
Interview the chief and the council but also the other tribe members at all levels – is this the right tribe for you? Do the tribe members back up what the chiefs and council tell you or is there dissonance? Don't be afraid to explore the tribe and take a test journey with them and to say it is not the right tribe for you.
Many of the tests of a strong tribe are intangible, especially the feeling that being in your tribe gives you (safety, trust, having your back) – work out ways of testing for the presence or absence of these though in reality only a trial period in the tribe will let you know of their existence or absence.
Employers – the tribe, the chief and council
Have clarity on what your tribe stands for (purpose), how it behaves (values) and where it is going (mission statement or vision).
Be aware that just any member is not your right member and you may end up harming your business if recruit the wrong person. Recruit with the intention to find the right member for your tribe and be courageous enough to ask people to leave the tribe if things are not working out. Prioritise attitude over aptitude – skills can be taught and learnt.
Do you spend too much of your time sorting out problem people or fall out from their collision with other members of staff? This is because you aren't hiring the right people for your tribe.
Think about your recruitment ad – it needs to make it clear what tribe you are and what member you are looking for. You only need one right member to join your tribe, otherwise there will be more mouths to feed for not the input to the tribe you need.
Values and culture must not be a poster on a wall only; they must be lived daily and shared by all levels of the tribe. The best way of telling this is to spend time in the team looking for behaviours that fit or contradict the supposed culture and for employers to encourage longer working interviews. I found asking the support staff such as cleaners and kennel hands to be the best guide as to the true culture of the place. Also listen out for people using 'we' and 'us' when describing the team effort, whereas 'they' or 'I' suggests dissonance between team and those in charge.
Story alert – I interviewed at a hospital practice that had won multiple awards for staff wellbeing and proudly showed me the practice values and mission statement framed on the wall at the start of the interview. However, after the formal part of the interview everything else in the practice felt like it contradicted them; the staff didn't feel able to speak up in a meeting due to a domineering character, they confirmed that lunch breaks were a mythical beast they never got to see and I saw plenty of evidence of a 'them and us' mentality. What would you feel after such an experience?
Where do clients fit into this?
Vet practices operate as if there is a scarcity – of clients, pets and money – so they do all they can to service and to keep every last client, even when it is clear that many don't fit what the practice wants to offer; the client who moans about money to a gold-standard level practice, or who has unreasonable expectations of the service that can be provided such as having someone sit with their pet all night in a 2 vet practice.
We know that 80% of stress comes from 20% of clients. Those clients aren't wrong or bad people (generally), they are just the wrong fit for your practice/tribe. By hanging onto these clients, it leads to increased mental burden on staff dealing with this 20% while your good clients are quiet and yet don't get the service they deserve. Please be selective about what clients you let your tribe service; their fit with what your business offers is just as important. Target your marketing to let clients find their best fit vet tribe.
Conclusion…
As a job seeker, do all you can in your power to make sure you identify the culture of the practice you are interested in – is this the right tribe for you? For managers and leaders, the right team fit is one of the cornerstones of happy, contented vets that will work to make your business thrive not just survive. People are your business's power, but only if they are the right people. By both sides requirement matching in an intentional way perhaps we can improve how people feel about the veterinary profession.
I would like to acknowledge the thoughts of Adrian Nelson-Pratt (talking about buses) and Simon Sinek in the writing of this article.